PMI... What You Need To Know
Wednesday, May 03, 2017
There are a large number of mortgage programs available to buyers that allow them to purchase a home with a down payment below 20%. Knowing the facts is crucial for a stress free home buying experience and here are some about Private Mortgage Insurance (PMI).
According to Freddie Mac, PMI is:
An insurance policy that protects the lender if you are unable to pay your mortgage. It's a monthly fee, rolled into your mortgage payment, that is required for all conforming, conventional loans that have down payments less than 20%.
Once you've built equity of 20% in your home, you can cancel your PMI and remove that expense from your mortgage payment."
The monthly premiums are paid by the borrower, and the lender is the beneficiary.
Freddie Mac also states that:
"The cost of PMI varies based on your loan-to-value ratio – the amount you owe on your mortgage compared to its value – and credit score, but you can expect to pay between $30 and $70 per month for every $100,000 borrowed."
Down payment for homes last year for all buyers was at 10%. It dropped to 6% for first-time home buyers. For repeat buyers it was at 14%. From this data, it seems that buyers were not fazed by PMI and were able to buy the home they wanted.
Example of the cost of a mortgage on a $200,000 home with a 5% down payment & PMI, compared to a 20% down payment without PMI: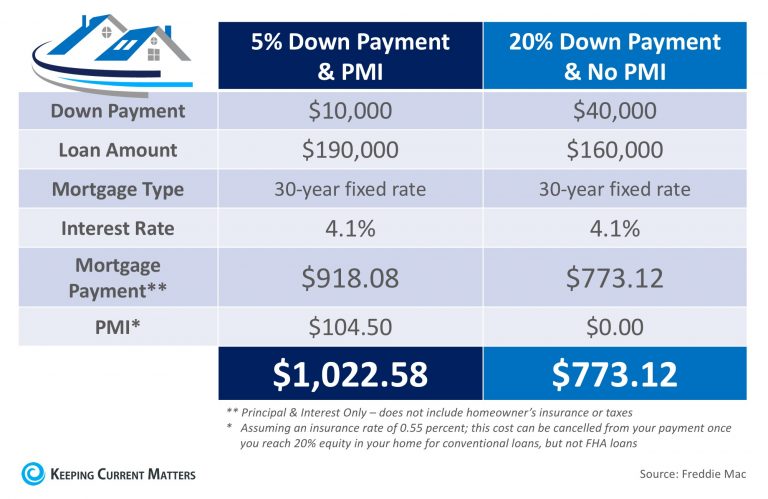 Larger Down Payment = Low Monthly Housing Cost
"It's no doubt an added cost, but it's enabling you to buy now and begin building equity versus waiting 5 to 10 years to build enough savings for a 20% down payment." – says Freddie Mac
"The other thing you need to remember that home prices are going up so by the time you save up enough down payment it could cost you much more to buy the home including higher monthly payment and even perhaps higher interest rates." says Pete Veres – RE/MAX
It's best to meet with a professional like Pete Veres – Certified Residential Specialist who can help you make a decision whether to hold off on buying and save up for a bigger down payment or purchase now while the market is hot.
"One last thing to remember is that as home values go and your principal goes down your PMI may only be around for a few years." Pete Veres –RE/MAX
Pete Veres – Elite Asset Management Team RE/MAX Elite 505-362-2005 email: pete@nmelite.com.