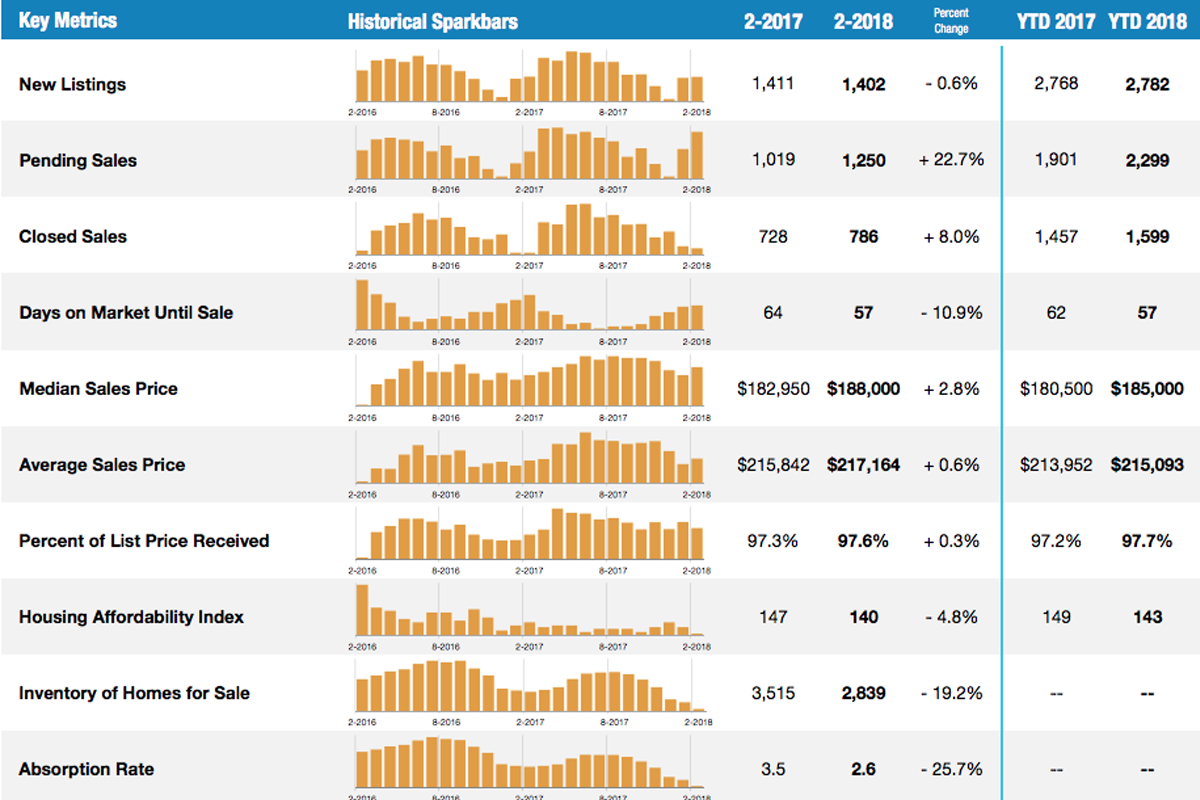 Sales activity in the Greater Albuquerque market areas saw Pending home sales exceed 1,000 for the second consecutive month, according to the Greater Albuquerque Association of REALTORS® (GAAR) with data from the Southwest Multiple Listing Service, Inc. (SWMLS). The 1,142 detached homes going under contract in February 2018 was a 22.4 percent increase over the same period last year and is the highest February month for Pending sales since 2006.
Pending sales of condos/townhomes for February 2018 notes a 25.6 percent increase over the same month last year. Once again, inventory of homes for sale in the Greater ABQ areas is down. Compared to February 2017, detached inventory shows an 18.2 percent drop to only 2,613 active listings, while attached homes were reduced 29.6 percent.
Both the average and median detached home prices increased in February. Compared to the same period in 2017, the median sales price increased 4.1 percent to $194,500 and the average sales price increased 0.8 percent to $225,342. While sales of homes in the $200,000 to $249,999 remain strong, February marked a notable increase in homes sold in both the $140,000 to $149,999 range and the $160,000 to $179,999 range.
The ratio of Sales Price compared to Final Listing Price for detached homes increased 0.2 percent to 97.6 percent for the month of February. Condo/Townhome sales showed an increase of 0.3 percent to 97.3 percent for the same time period.
"Homes selling in February retained 97% of their final listing price," said Danny Wm. Vigil, 2018 President of the Greater Albuquerque Association of REALTORS®. He added, "Using a REALTOR® in today's market has never been more important in helping sellers get to the best price point to maximize their sale profits" The full report for February market statistics is available by clicking here, or going to GAAR.com and clicking on Market Statistics.
Report is from GAAR.com